Florida with TUI!
Being avid travelers and content creators handy with cameras, drones and new technologies, TUI reached out in the second half of 2017 if we'd be interested to visit one of their world travel destinations and experience the TUI brand. Sure, we said with some enthusiasm, having done several of these trips before, all within Europe. Where would we be going? "Florida". 
The "some" enthusiasm quickly turned to suppressing our obvious over-enthusiasm. The initial travel date was set to September 2017, but much to our regret, two weeks before take-off a devastating hurricane Irma decided differently. We feared that that might be the end of it (which, in light of the unfathomable tragedy that had happened to people in the area would have been a very light setback), but fortunately TUI was quick to reschedule. Late January 2018.
We had both worked with TUI on previous occasions – on the TUI fly rebranding inaugural flight to Malaga, and their 787 Dreamliner inauguration, to name a few – but that didn't include fully arranged road trip holidays with long-haul flights. We were curious, to say the least. Do keep in mind that neither of us had been on a holiday for a very long time.
Some time before departure a nice and convenient TUI bundle arrived with a ton of essential documents: tickets, vouchers, reading material about Florida, some travel guides, and an itinerary. We had a quick look at the list of cities, locations and hotels we were going to stay at, and our ears suddenly started glowing. We were officially excited.
As the departure day approached, we became very appreciative of one particular fact: departure time. We're accustomed to getting up around 4am whenever flying intercontinental out of Brussels, but not this time. Departure from Brussels is conveniently around 1pm, removing the need to get up at ridiculous hours. So after a good night sleep, we met up in the departure hall and started our adventure.
The announcement on the TUI fly Instagram account – welcome to Miami
BRU-MIA
We've both flown business and first class on a large variety of airlines from pretty much every continent (I suppose you could say we're spoiled) and not knowing the long-haul TUI product at all, we didn't have any particular expectations for the flights. We should have.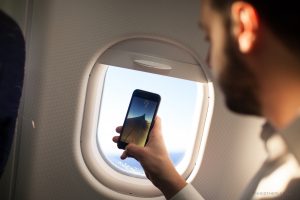 It started with the drinks: many airlines seem to actively discourage people from ordering extra drinks by hiding in their quarters after doing their mandatory rounds. Countless times I had to sneak in their little hideouts to request another glass of gin, resulting in weird looks and the inevitable shame of feeling like an alcoholic. Not this time. The crew actively kept asking everyone if they'd like a refill, and the drink menu seems to be at least on par with other "true" business products: several quality wines, champagne, cava, and just about every spirit you can name. Impressed.
The food turned out to be just as good: fresh bread and cheese (the cornerstone of the modern business class, according to me, Rudolf), starters, deserts and well seasoned main courses. Obviously followed by proper coffee (both of us are severe coffee addicts, but I'll get to that later).
Upon landing in Miami we both felt a slight disappointment for having arrived rather swiftly, the best indicator of a good flight. We landed in the early evening, and after a semi-smooth immigration and luggage line it was time to pick up the car. TUI had asked us earlier what category we preferred, and both of us had blurted out "Mustang convertible" without much of a thought. We were going to be doing a lot of pictures and video, and an interesting looking convertible seemed like the best choice in the States for exactly that.
The Alamo rental agent informed us that we could get a slight upgrade to the highest spec – the ludicrous 5 liter V8 Mustang GT. In front of him were now two excited teen girls.
First stop: DoubleTree Bahia Mar Beach resort, Fort Lauderdale
We threw our two large suitcases and camera bags in the car (we weren't sure if a convertible would fit all our gear, but we ended up with room to spare) and took off to our first hotel: the DoubleTree Bahia Mar Beach resort in Fort Lauderdale, about an hour drive from Miami International Airport. Speaking of which: driving really is a lot of fun in the US, especially in a comfortable tourer and with endless torque available. It's always a pleasure getting away from our tiny congested Belgian arteries and seeing a broad horizon with wide roads instead.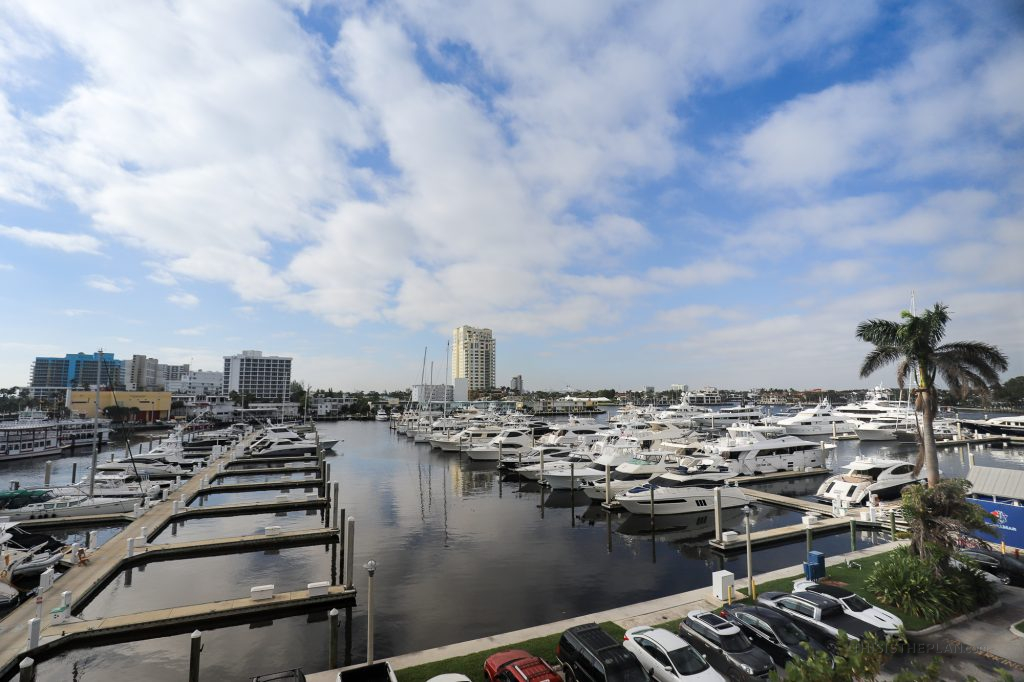 Almost immediately after leaving Miami Airport you're treated with a sight to behold: driving down the I-95, Miami's impressive skyline suddenly pops up in front of you. When you've seen nothing but airport and airplane for half a day it almost feels magical, and it reminded me ofseeing Manhattan in the distance for the first time as a kid. After crossing Miami Bay Bridge we moved up North to Fort Lauderdale, where we indulged in some mandatory Denny's and looked at our planning in the local Irish pub. You know, when in Rome.
The Bahia Mar turned out to be a nice, nautical themed hotel next to the Yachting center. There was a free to use parking space (saying we dislike valet service would be a grave understatement, as we end up taking the car out up to 10 times every day for photo and video shoots on location) and the staff was very helpful in getting us in the right direction for things like local SIM cards and grocery recommendations. Oh, and we needed the SIM cards badly; we'd temporarily be taking over TUI's Instagram account, which means moving several gigabytes while roaming. Good idea.
Day 2: Hilton Cocoa Beach Oceanfront
Jetlag didn't seem to be a big problem, and after a decent good night sleep we managed to get up relatively early. Onto our second hotel: the Hilton in Cocoa Beach! I had no idea what to expect of Cocoa Beach, all I knew was we were getting one step closer to Kennedy Space Center.
It was at this point that we fully started to appreciate that sense of pure freedom. That sounds cheesy, but there's something extremely freeing about having a car and an open road in the States. And so we packed our bags again, got in our American muscle and took off. But first: coffee. Always.
On the road to Cocoa Beach we noticed a gradual change in scenery: high-rises slowly made way for big residential buildings and beaches. Around noon we felt it was time for a break, and we found a nice quiet pier full of pelicans. We didn't know it yet, but pelicans, and birds in general, are a really really big thing in Florida! Anyway, I remember the pier vividly because it was the first time the Sun made it through the clouds. I didn't want to be a negative nancy up till now, but up till now the weather had been rather… gray. Nothing to complain about though, and weather websites made it clear things would get much better soon. And so it did. Time to open up the top.
Something I haven't mentioned yet is that TUI not only asked us to report about the trip, we were also supposed to take enormous amounts of pictures and video. So we took some gear. A lot of gear. About 35 kilos worth of gear. Four camera's (thanks to Canon Belgium for hooking us up!), a gimbal stabilizer, a drone, two Samsung 360 cameras, tripods, batteries, chargers, displays, and lenses – so many lenses.
We both felt a bit bad because we hadn't really used our gear yet, and I don't know if it was because of the Sun or because our jetlag had slowly disappeared, but somewhere on route to Cocoa Beach we snapped back into our camera zone.
Of course taking pictures while driving is hard (not to say near impossible) so of course we stopped at various intervals. Parks, beaches, piers, restaurants, residential areas, and even coffee bars. Once we had entered Cocoa Beach it was time for groceries – always a fun (okay fine: funny) experience in the US, followed by our next hotel check-in: the lovely Hilton Cocoa Beach Oceanfront!
Kennedy Space Center
We made it an early night, because one of our favorite things in the whole world was waiting for us the next day: Kennedy Space Center! You see, Cocoa Beach is pretty much the last stop before entering space world, which is not just Kennedy Space Center, but an entire chunk of Florida.
The next day started with coffee (I could stop mentioning it, but for the purpose of explaining the gravity of our addiction I'm just going to keep on doing it), another coffee, and then a beautiful but long drive up to KSC. We were wearing our NASA and SpaceX gear, had already planned out our visit the day before and still couldn't believe it when we passed the world famous sign!
We spent most of the day on the bus tour (from which we could actually see SpaceX' Falcon Heavy which would be launched just days after!), drinking coffee and walking around, seeing Space Shuttle Atlantis, an actual Saturn V and the amazing Launch Control Center among so many other things. Yes, it was a tiring but amazing day for two space nerds. At the end of the day we still had a long drive left to Orlando, which felt like entering an entire new world again. It was time for Disney World. And coffee.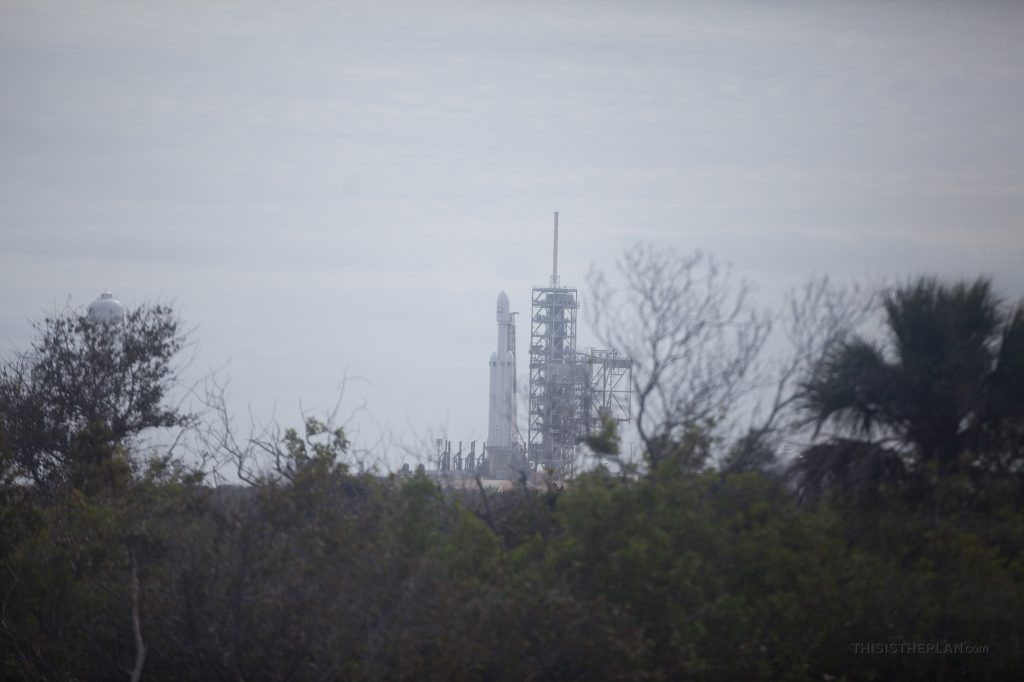 Disney World in Bloomin' Orlando
In Orlando we stayed at Buena Vista Suites, a huge but very nice set of suites – which happened to have a nice outdoor pool as well. But most importantly: it was only 10 minutes away from Disney World! And it had coffee.
The next three days were essentially one big Disney-crazed blur. Magic Kingdom, Animal Kingdom and Hollywood Studios: we saw it all (apart from Epcot – we had to skip that one). It's hard to describe the size of Disney World to someone who's never been there, but the fact that the entire park is about 110 km2 should tell you something. It's the most visited vacation resort in the world, that too should tell you something.
On the last day in the world of Disney we had some time left to explore downtown Orlando as well, which is surprisingly nice and laid back. There's plenty of coffee as well.
Sarasota
Bumblin the bee, the iconic Camaro SSNext up it was time to head West: Sarasota was waiting. But not before one little hiccup: the rear tires of our Mustang had surprisingly deflated overnight, which resulted in us being towed and getting a new ride: an even more powerful Camaro SS. Not such a hiccup after all!
The next morning – after grabbing coffee – we were well on our way. Weather had gotten increasingly better and the Camaro drove like a champ.
Sarasota is beautiful. It's calm yet exciting, has plenty of beautiful beaches and islands nearby and has a very relaxing vibe to it. We stayed at the Hyatt Regency, so needless to say: we had an incredible stay. We definitely enjoyed our amazing outdoor pool and jacuzzi, but were out most of the time filming, taking pictures and flying our drone around the Keys. When I say Keys I mean the beautiful stretch of Keys North West of Sarasota, which ends in Anna Maria Island. Anna Maria came recommended by a fellow guest at the Hyatt and is gorgeous: sandy white beaches, amazing architecture and several nice little piers. And great food too.
On the first day we had some tough luck with the weather, but fortunately we stayed in Sarasota for not one but two nights, and with the sun coming through on the next day we ended up getting plenty of sun.
After exploring the city one more time we went got some coffee and headed towards one of our last stops: Naples!
Naples
In Naples we stayed at the La Playa Beach & Golf Resort, which aside from a great vibe also had by far the best room view on our entire trip. The resort's theme was a bit nautical (it seems to be a Florida thing) with nice wooden touches, which I personally really like. We only stayed there one for one, but thanks to the views, the lovely weather and our newfound addiction to Whole Foods take-out we had a brilliant time there, despite a bit of self-induced time pressure.
And then it was time for the last stretch: our long drive through the Everglades back towards Miami. But first coffee.
The Everglades are beautiful and surprisingly calm, given their notoriety. We took a few stops to fly our drone and shoot some beautiful video, watched a bit of wildlife and unfortunately had to skip an airboat ride due to time constraints.
Later that night, after several more hours on the road and our first Five Guys experience, we had made it to Miami Beach, where we checked in to our last hotel: the very Miami-esque Gates Hotel South Beach. After having explored Miami a bit, we decided to spend the last day in the Keys – a nice long ride from Miami with, well, not thát much to see apart from roads. Still, it was an enjoyable all-day road trip with some great sushi to spare.
We took advantage of the weather on the last evening to get some great final shots of Miami at night – it's definitely a stunning metropolis, even more so on camera. Once we were done it was time for a final drink, packing our gear and hitting the sheets.
We had a good night sleep, got up, got some coffee and for one last time made our way to the car. Once we had dropped off the car at the airport we once more found ourselves indulging in amazing food and drinks on the plane. Our crew was incredibly friendly once again, which really does make a difference on a long-haul flight. Even more on the flight going home, it seems! Since we still had some travel budget left (I know!) we got to try out TUIfly's duty free products as well, which is a very sizeable catalog with just about everything you can imagine.